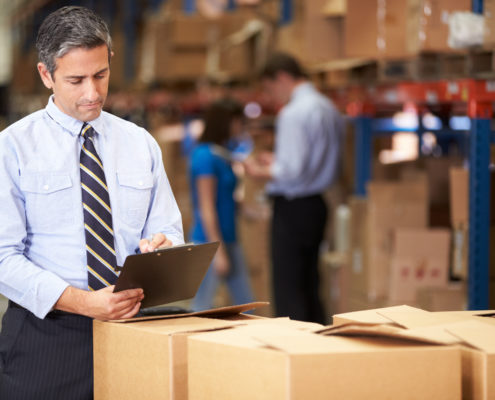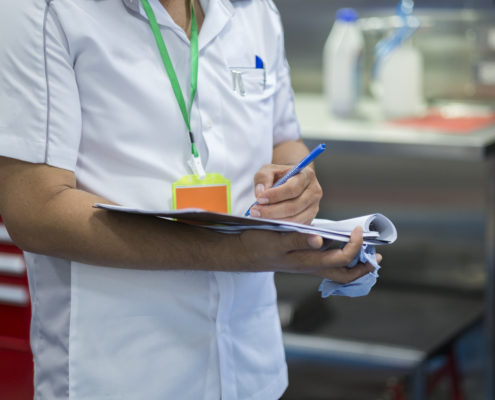 QUALITY INSPECTIONS: QUALITY PRODUCTS FROM CHINA
Fulfillment of customer wishes has top priority at the STM-Group. In several control cycles, products and materials are inspected for dependability, robustness and expected quality requirements. Certifications, recordings and documentations enable admittance to western markets and ensure a smooth importation from China. Error rates and complaints are reduced to a minimum, thus saving costs and enhancing customer satisfaction.
Traceable from subcontractor to manufacturer to shipment
In regular intervals, each individual workpiece and work material of the manufacturer is registered, traceable and checked as to its quality standards. Thus, production faults and material defects are detected on first appearance and eliminated from future batches. The STM-Group's numerous loyal customers have relied on our diligence for over 10 years.
Pre Production Inspection (PPI)
The pre-production inspection comprises all must do checks before commencement of production. Our inspector checks if the chosen factory is able to satisfy your requirements concerning the quality, the capacity and the processing time. This inspection guarantees that the materials used conform to the contractual stipulations and correspond with the standards of the target country.
What do we check during the pre-production inspection?
We start be establishing the relationship between the customer and the supplier in order to enable a smooth information exchange – samples, costs, production schedule, internal quality control, raw materials and other factors relevant to the smooth processing of your order.
The added value of pre-production inspection:
Before the actual start of production our inspectors perform spot checks of raw materials, components and the supplies to be used in production. This helps the customer to countercheck if the factory has ordered the correct materials and components. Often production faults arise due to language differences – this, too, can be prevented by a "PPI".
The main contents of this service are:
Optimal preparation before production starts
Safeguarding the service according to requirements and specifications (material, colors etc.)
Providing all relevant information before bulk production
Arrangements for error corrections
The factory is prepared for your order
Avoid unexpected delays and costs
Book this quality inspection
Communication difficulties are a problem to all internationally active purchasing managers. Cooperation with a foreign supplier is hard to achieve if he hardly or only with difficulty understands your wishes and requirements. Efficiency, correct materials and a smooth cooperation with the business partner are each buyer's dream. The PPI ensures you of a carefree order placing.
During Production Inspection (DPI)
As soon as at least 20 % to 50 % of the products have come off the production line, our inspectors can be on-site to check them for possible deficiencies or deviations from quality parameters and to continue accompanying the process in order to ensure that such deviations are eliminated in the subsequent production process. This check comprises all aspects of a quality inspection carried out according to AQL standards: quality of workmanship, raw materials, product appearance, weight control, combination of functionalities, dimensions, supplies, labelling and logos, packaging materials, wrappings and other special requirements depending on product specifications. Process inspection also covers work in process and compliance with the original production planning. After each inspection you immediately receive a complete and comprehensive report together with pictures, commentaries and feedback. This report enables you either to accept or reject a product.
Why during-production inspection?
During-production inspections keep you informed, at all times, about all circumstances concerning your order. Thus, you can intervene promptly if deficiencies appear. In addition, we check the actual production quantity in order to allow you to ship your products smoothly and without delays.
The main contents of this service are:
Making sure that the bulk production corresponds with the sampled product.
Detecting faults promptly and reliably and performing necessary corrections
Detecting the error rate in time and correcting it in the subsequent production process
Avoiding shipping delays
Book this quality inspection
Using this intensive production monitoring you track product quality and production step by step in real-time. This way each production problem or each quality deficiency can be detected promptly.
Pre Shipment Inspection (PSI)
The "Pre-shipment Inspection" (PSI) before shipment of products is also known as final spot check. It is carried out when 100 % of the products are finished and at least 80 % of the export cartons have been packed. During the inspection our auditors select spot checks for sampling according to AQL standards.
What is checked before shipment?
In respect of conformity checks we will make sure that quality, colors, measurements, product appearance, shipping quantities, packing and all special requirements comply with the relevant international standards and customer specifications. After each inspection you immediately receive a complete and comprehensive report together with pictures, commentaries and feedback. This report enables you either to accept or reject a product.
The added value of a PSI:
We reduce your risk to make final payments for faulty deliveries and to receive incorrect deliveries.
The main contents of this service are:
Identifying the nature/percentage of the deficiency
Product quality (possibly reject accepting the shipment)
Shipping marking, packing and labelling
Examination of the quality and functionality of the final product
Book this quality inspection
It is very important that you check your merchandise a last time before shipment. This to avoid any quality issues with your products.
Container Loading Inspection (CLI)
The pre-shipment inspection is the last step in a sequence of quality inspections and takes place immediately before loading the container. The inspection is performed directly on the manufacturer's premises.
What is examined during a pre-shipment inspection?
Ensuring that the finished and packed products correspond to your requirements (product nature and quantity) and that the shipment has been prepared appropriately. You should book a standard inspection such as the "pre-shipment inspection" and "during-production inspection" (DPI) to make sure that the merchandise can be checked against product specifications such as labelling, marking and internationally recognized identification.
Why order a pre-shipment inspection?
Monitoring the container loading not only focuses on the correct product quantity but also the appropriate transport packaging and the protection of the merchandise in the container.
The main contents of this service are:
We inspect the status of the containersWe ensure that only the correct products are shipped
We ensure that only the correct products are shipped
Total number of cartons
We ensure a careful loading to avoid any breakage of merchandise.
In case of complications the inspector will inform you promptly to ensure a continuous information flow
The container is forwarded to your company directly
Container sealing
Final product check
Book this quality inspection
In case of deficiencies, this complete documentation simplifies the discussion with the manufacturer. At the same time it is required by many transport insurances as proof that the insured event has occurred.
Defect Sorting Service
During this procedure as much deficient merchandise as possible is sorted out (specific deficiencies, functional problems or packaging errors, etc.). Further inspections are not performed by this service.
The added value of a "Defect Sorting Service"
This service enables you to distinguish bad products from good products. You can also find out if the manufacturer has reworked deficient products. In addition, the deficiency rate can be determined which could affect the shipment of merchandise.
How to proceed after a deficient inspection?
Sorting out defective products
Understanding the seriousness of the quality deficiency
Conducting negotiations with the supplier in case of quality deficiencies
How can I ensure that my shipment does not contain deficient merchandise?
Determining the deficiency rate affecting your product quality
Initiating rework of products by the supplier
Rejecting acceptance of a deficient shipment
Book this service
Instead of sending the inspector back to recheck the merchandise for faults, you can direct his attention to the following points: opening as many cartons as possible in order to sort out a high number of faulty goods (within the number of days assigned). The STM-Group will cooperate in direct contact with the supplier and ensure that faulty goods are not shipped. Here we help you save both time and money!
Production Monitoring
This service contains the daily supervision of the production process and a comprehensive report including pictures, commentaries and feedback.
What is a Defect Sorting Service?
Detailed daily reports including photographs of the state of production and quality are emailed to you.
What is inspected in a Defect Sorting Service?
This ongoing monitoring permits the prompt detection of all production problems and all quality deficiencies. Our highly-qualified inspectors helps the manufacturer finding the best solution to eliminate the problem or the deficiencies quickly. Here you can decide how many days our inspectors should spend on a project.
The added value of a Defect Sorting Service
This service is performed between the First Sample Inspection and the Pre-Shipment Inspection. During the pre-shipment inspection we support you in the preparation of a production process and send our inspector to your factory in order to examine compliance with your requirements using a checklist and to carry out desired improvements. The Defect Sorting Service can be implemented during the whole production process. You can require a Defect Sorting Service: after a bad inspection or as soon as 10 % of the production have been finished, in order to restore compliance of the production with your standards as soon as possible.
The main contents of this service are:
Supervision of production processes
Continuous feedback of information
Early recognition of discrepancies and implementation of required improvements where appropriate
We inspect: materials, condition of machinery, operational staff training etc.
Why should I book this service?
A more effective supervision of production guarantees more reliable shipping dates, reduces set-up times and processing times and increases productive machine running times. In addition, production supervision provides an ongoing feedback of information enabling product traceability.